Serra Gaúcha Complete Package
Promotional Rates - February, March and October (excluding holidays)
Low Season Rates - April, May, August and September (excluding holidays)
Season Rates - January and June (excluding holidays)
High Season Rates - July, November and December (excluding holidays)
* We do not charge service fee.
* Rates indicated may change without notice.
* Check-in after 14:00 and check-out until 12:00.
* A child up to 5 years old accommodated in crib or extra bed in the premium suite is complimentary.
Method of Payment: Confirmation of the reservation will be made by means of an advance bank deposit of 50% of the total amount of the reservation. The rest must be paid at check-in. We accept all major credit cards.
In addition to the 5 daily rates, which include breakfast / brunch served until noon, consumption of the minibar in the apartment released with daily replenishment and afternoon tea served from 17:00 to 18:30, the Serra Gaúcha completes 5 days include:
Free Airport Transfer
First night - Arrival transfer - Airport> Pousada Cravo e Canela
The reception takes place at Porto Alegre airport, following to Cravo and Canela - Roteiros de Charme. The duration of the trip is approximately two hours, time to enjoy the beautiful landscapes and gather tips about the programs of the Serra Gaúcha.
Last day - Departure Transfer - Pousada Cravo e Canela> Airport
Departure from Cravo and Canela-Roteiros de Charme to Porto Alegre airport. The departure is made at least 3 hours in advance of the scheduled time for the takeoff of the flight, thus allowing a calm embarkation
Gramado and Cinnamon City Tour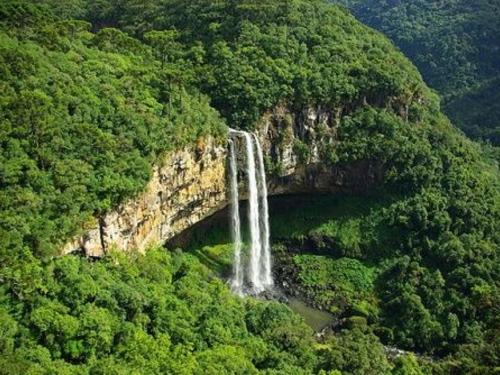 Lago Negro, Crystals Factory, Chocolate Factory, Aerial Bonds the main attraction of the park are the aerial cable cars, on the route the visitor enjoys beautiful landscapes arriving to the animal station, the highest part of the development, where are the auto interpretative trails, descending again from the cable car you will arrive to the cascade station, a spectacular scenery that has as background the Waterfall of the Caracol, Warehouse of the Earth, Church of Canela (guided stop), Museum of Wax
first wax museum in Latin America and the only one in Brazil, you will have fun, take photos with your idols or even film at the Dreamland Wax Museum in Gramado. and Harley Motor Show's only South American themed venture to honor the legendary motorcycle brand, the Bar / Museum Harley Motor Show is geared not only for motorcycle lovers but for the entire tourist public. There are more than 1,000 square meters and a scenario that refers to the casinos of Las Vegas, where there are about 30 rare bikes. . In addition, we will have a panoramic tour viewing the Bavarian Quarter and Castelinho do Caracol. Does not include lunch or admission to attractions.
Tour of the hydrangeas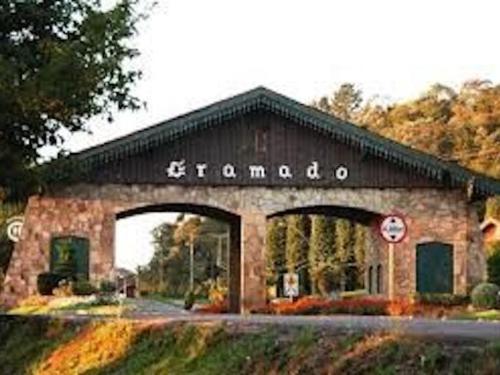 Portico de Pedra , Mini Mundo is a leisure park in the form of a mini-city, where almost everything is 24 times smaller, buildings and urbanism are charmingly small, including trees, shrubs, people and means of transportation, Mundo à Steam powered theme park with several steam powered miniature industrial processes, Belvedere Vale do Quilombo, Super Cars a place where just looking is not enough, has to
listen to the hum of engines and feel the thrill of driving a car with engines that scream for speed, Hollywood Dream Cars the most beautiful display of old cars in Brazil. In it one can feel and live the climate of emotion and nostalgia for the glamor of Hollywood, the golden years, Valley of the Dinosaurs, the most incredible animatronic dinosaurs that move and make sounds, similar to the beings who have inhabited the Earth for millions of years, Lake Joaquina Rita Bier (panoramic), Rótula das Bandeiras (panoramic), Statue of Kikito (panoramic), Etnias Square (panoramic). Includes: transportation, guide (lunch and attractions not included). Duration approximately 9 hours and 30 minutes (8 am to 5:30 pm)
Tour Uva e Vinho (com ingresso Maria Fumaça cortesia)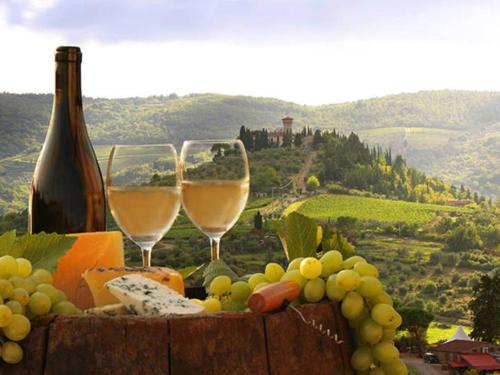 Nesse passeio você vai conhecer a história dos colonizadores italianos que se estabeleceram nas cidades de Caxias do Sul, Carlos Barbosa, Garibaldi e Bento Gonçalves. Visita a Vinícola Tonet ou Vinícola Zanrosso (degustações free) e Vinícola Aurora ou Vinícola Garibaldi (degustação free). Além disso, embarcaremos no Trem Maria Fumaça, onde a diversão é garantida!!! A locomotiva percorre durante 1h30min um caminho entre as cidades de Bento Gonçalves e Carlos Barbosa. Durante o passeio há degustação de suco de uva e espumante e também apresentações musicais, Visita ao Parque Epopeia Italiana. Não inclui almoço nem ingresso nas atrações.
Tarifas Promocionais - Fevereiro, Março e Outubro (exceto feriados)
Tarifas de Baixa Temporada - Abril, Maio, Agosto e Setembro (exceto feriados)
Tarifas de Temporada - Janeiro e Junho (exceto feriados)
Tarifas de Alta Temporada - Julho, Novembro e Dezembro (exceto feriados)
Não cobramos taxa de serviço.
As tarifas indicadas podem sofrer alterações sem aviso previo.
Check-in após as 14:00 e check-out até 12:00.

Forma de Pagamento: A confirmação da reserva se dará mediante depósito bancário antecipado de 50% do valor total da reserva, ou se preferir, 100% do valor total da reserva parcelado em até 6 vezes em cartão de credito com parcela mínima no valor de R$ 350,00. O saldo da reserva e extras deverão ser pagos no check-out. Aceitamos todos os cartões de crédito.
Important informations
There is no pre-established date or sequence for the departure of the tours, guests are informed directly at the inn about the schedule of activities. Transfers and tours are conducted in groups and can occur with up to 6 different vehicle types depending on the availability / departure of the receptive agencies:
Executive Car - capacity of 4 passengers.
Van - capacity of 10 passengers.
Micro-bus - capacity 14 passengers.
Bus - capacity 45 passengers).

It is up to guests whether or not to use the transfers and tours included in the package. If you do not do any of these activities, there will be no refund of amounts, as it is a promotional package exclusively. "This is one of the BEST cost / benefit packages in ACCOMMODATION and WALKS in SERRA GAÚCHA."