The city is located at the top of the Campos de Cima da Serra, northeast region of Rio Grande do Sul. It borders the cities of São Francisco de Paula, Jaquirana, São José dos Ausentes and also the municipality of Santa Catarina.
Besides being known as the "Land of the Canyons" the small Cambará do Sul is a champion in the ranking of low temperatures. In winter it is always among the coldest places in the country. As a typical inland city this also conserves old habits, such as family reunion and friends in the kitchen, around the wood stove. In cold times, the pinion on the plate is the strip taste of the serrano gaucho. Of course, always accompanied by a tasty chimarrão. And for this drink it does not matter if it is cold or hot. It's habit! Gaucho thing!
In Cambará also exists a valuable natural treasure formed by canyons, waterfalls and immense araucarias. It is these beauties that attract thousands of tourists every year to the region. The Itaimbezinho and Fortaleza canyons are also known because they were scenarios of many soap operas and publicity campaigns. The mini-series "The House of Seven Women" and the novel "Chocolate with Pepper", from Rede Globo, were the last productions that showed the beauties of Cambará do Sul on television.
Tour Land Rover- Canyons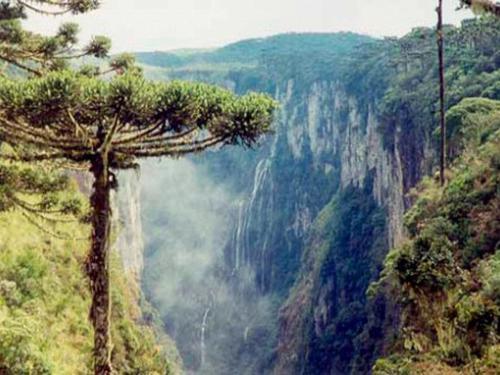 The itinerary includes a trip to Cambará do Sul through the beautiful landscapes of the Campos de Cima da Serra with a visit to Itaimézinho Canyon or Fortaleza, as the ecotourism agency departs and availability of parks opened, monitored by Ibama, arriving at the Aparados National Park Saw the legendary Land Rover vehicles with specialized guides. As attractions are: Véu de Noiva Waterfall, Swallows Waterfall, Padre Balduino Museum, rivers, native flora and fauna. In a traditional farm of the fields above the hills, with a privileged view of a waterfall, you will be greeted with a delicious lunch of typical food, from the breathtaking region where the mini-series took place The House of the 7 Women of Rede Globo . Includes, In / Out Inn to the Cannyons, entrance to the Park included, two options of guided trails inside the Park, typical lunch, snack on board the Land Rover, or during the trail in the Park, and Land Rover trails on the farm fields Of region. Land Rover Experience. Be sure to take your camera with you.